ICE ISLAND (Random House)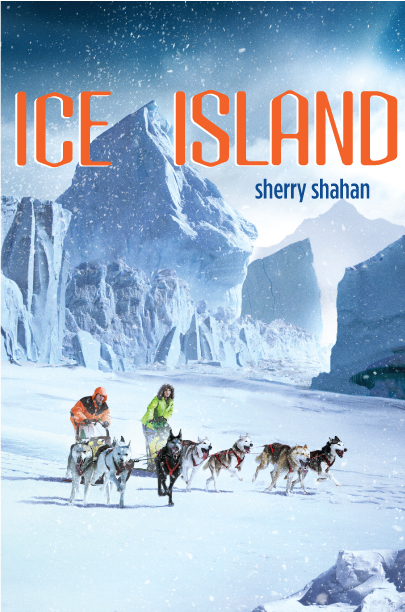 MESSAGE FROM SHERRY:

I was inspired to write "Ice Island" when I visited St. Lawrence Island, Alaska, after
the 1,049-­‐mile Iditarod Trail Sled Dog Race.

This remote island lies west of mainland Alaska in the Bering Sea—about 230 miles
southwest of Nome. Yet it's less than 40 miles from Russia.

It was mid-­‐March, and freezing cold. I had flown to Nome in part to cheer on Iditarod
mushers as they crossed the finish line. While walking the icy streets of the historic
gold-­‐mining town, I fell in love with the rustic buildings and the beauty of the frozen
Bering Sea.

From Nome I flew to a small village on St. Lawrence Island. Bundled up against the
cold, I wandered through the streets and talked to Native men repairing walrus-­‐skin
boats, called angyapik in the Yupik language.

I was startled by the sight of polar bear hides drying on racks, and amused by children
playing with large chunks of ice, stacking them like blocks.

I remember thinking, One of these days I'll use these details in a story.

ABOUT THIS BOOK:

What begins as a training run with sled dogs turns into a race against time for 13-­‐ year-­‐old Tatum, who is visiting Santa Ysabel Island for a week, and her new friend, a Siberian Yupik boy named Cole.

When a freak blizzard hits this remote island off the coast of Alaska, the two are forced to seek shelter in a dilapidated hunting cabin. Stranded in the wilderness, the pair must
rely on each other—as well as their faithful huskies—to survive subzero temperatures
and bone-­‐numbing exhaustion as their food supply runs dangerously low.

In this riveting do-or-die adventure, Sherry draws on her dozen treks to Alaska for authentic and startling details of the unforgiving environment and its challenges. Readers should bundle up before trailing Tatum and Cole, and their incredible huskies into the frozen north.